Welcome to the sun-soaked paradise of Manly, one of Sydney's most iconic and picturesque beachside suburbs! Nestled between the sparkling Pacific Ocean and the serene Sydney Harbour, Manly effortlessly combines the laid-back vibes of a beach town with the cosmopolitan flair of a thriving urban centre. A perfect destination for all ages and interests, Manly offers a diverse array of activities, from surfing and coastal walks to vibrant markets and delectable eateries.
In this guide to Manly must-do's, we'll help you discover the must-see sights, hidden gems, and local secrets that make this vibrant community a must-visit destination on your Australian adventure. So, put on your sunscreen, grab your favourite beach towel, and get ready to explore the wonders of Manly!
Must-Do's in Manly, Australia

Explore the Great Outdoors
Manly is a haven of natural beauty with ample opportunities to enjoy its beauty from walking and sunbathing on its stunning beaches, exploring on its hikes, getting an adrenaline rush from its exciting watersports, it's the perfect spot to embrace nature. Here are some of the best things to do outdoors in Manly.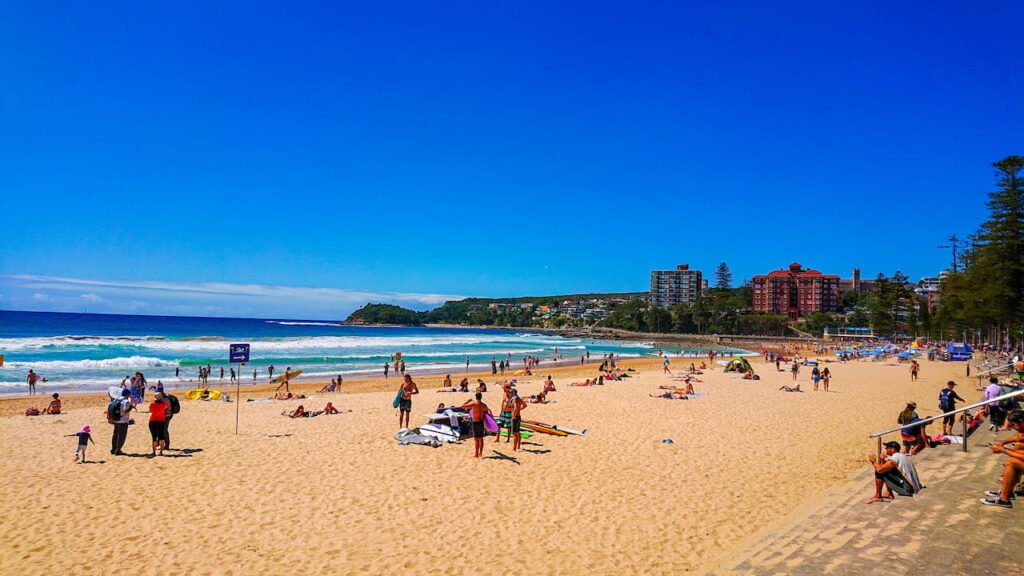 Beach Days in Manly
There is nothing like a beach day in Manly . Boasting an array of beautiful beaches, Manly beaches offer a unique set of activities for both locals and tourists. Manly Beach, for instance, is a hotspot for surfing, with several surf schools available for beginners wanting to catch their first wave. If surfing isn't your thing, you can also engage in beach volleyball, kite surfing, or paddleboarding.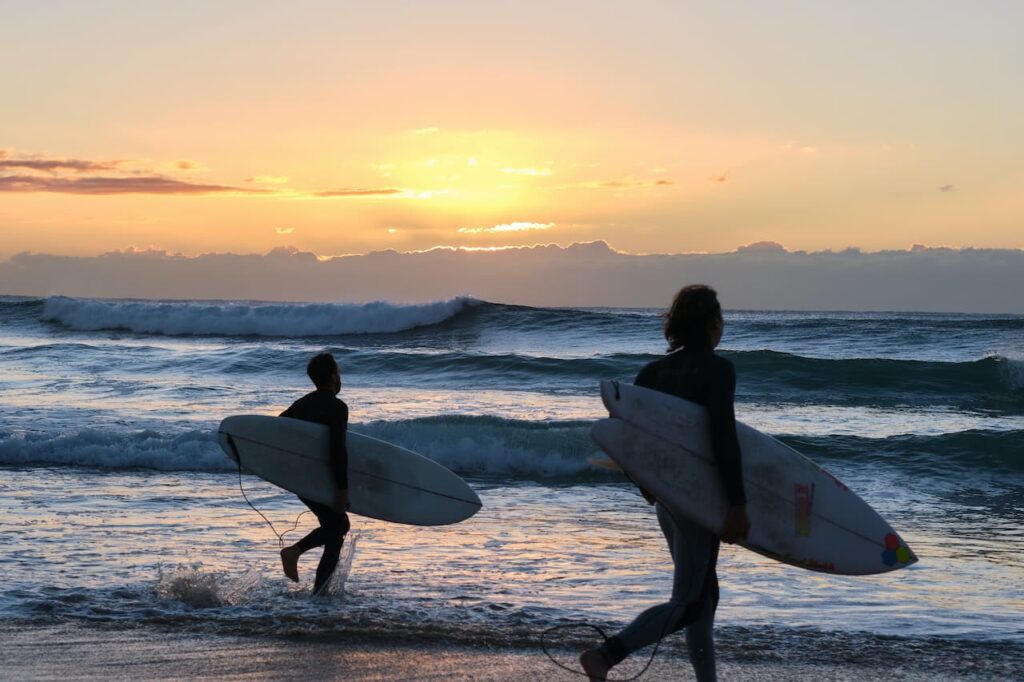 Just around the corner, Shelly Beach offers fantastic opportunities for snorkeling and scuba diving, thanks to its protected marine reserve teeming with a diverse range of sea life. For those keen on fishing, both Manly and Shelly Beach have designated areas where you can cast a line and test your luck at catching something.
Beyond the water activities, the areas surrounding Manly's beaches offer plenty to do. The scenic Manly to Spit Bridge walk starts near Manly Beach and takes you through coastal bushland, offering spectacular ocean views along the way.
Close to Queenscliff Beach, you'll find skate parks and playgrounds, ideal for families looking to keep the kids entertained. Manly Corso, the pedestrian street connecting the ferry wharf to Manly Beach, is lined with shops, cafes, and restaurants, offering a delightful break from the sun and sand. Whether you're an adventure enthusiast or someone looking to unwind, Manly's beaches have something for everyone.
Hiking in Manly
There is no better way to experience Manly's natural beauty than up close and personal on a hike. From leisurely strolls near the beach to guided hiking tours, Manly has a trail suited to your wants, needs and skill level. The Spit Bridge to Manly walk is the most well known walk in Manly and for good reason. Its incredible harbour views, pretty bush land, Aboriginal engravings and multiple secret beaches along the way, easily make it one of the best harbour walks in Sydney.
If you want a fun hike packed with information along the way, book a Manly hiking tour, where your very own Sydney tour guide will hike with you along several beautiful sights. You'll explore many iconic coastal spots like Colin's Beach and North Head, where you can take in the spectacular views, all the while getting insightful information on the area and its history.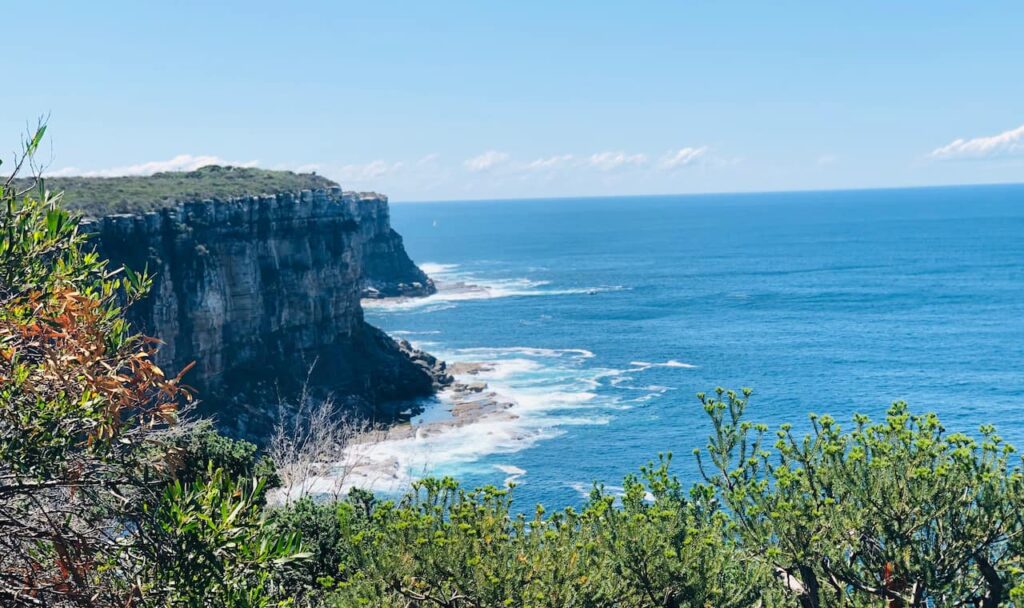 There are many walks on North Head that can be done solo, in a group or with a friend. From the Hanging Swamp walk, exploring the Third Quarantine Cemetery, to taking in the spectacular views from the North Head Cliffs, there is no shortage of fun, beautiful hikes to enjoy on your trip to Manly.
Whale Watching in Manly
Whale watching in Manly, Australia, is an exhilarating experience that offers the chance to witness the grandeur of these magnificent marine mammals in their natural habitat. Located just a short ferry ride from Sydney, Manly serves as a prime departure point for various whale-watching tours, such as those operated by Manly Ocean Adventures and Manly Whale Watching.
These tours often entail a boat ride into the open ocean, equipped with expert guides who provide insightful commentary on the whales' behavior, types, and conservation status. As you sail along the coastline, you're likely to spot humpback whales frolicking and breaching, and if you're fortunate, you might even catch a glimpse of other species like minke whales or orcas.
The best time to engage in whale watching in Manly is from May to November, with the peak season falling between June and October, when the whales migrate along the Eastern coast of Australia. This is a not-to-be-missed adventure for nature lovers and marine wildlife enthusiasts.
Tour the Sights
If you want to get out of the sun for a while, Manly has many sights for you to explore and enjoy. Here are some of our recommended picks for your to-do list.
Barrenjoey Lighthouse
Visiting the Barrenjoey Lighthouse is a must-do when visiting Manly. Located just under an hour drive from Manly's town centre, this iconic lighthouse sits atop Barrenjoey Head at Palm Beach. The moderately challenging trek to the top rewards you with panoramic views of Broken Bay, Ku-ring-gai Chase National Park, and the vast Pacific Ocean.
Once you arrive, you can explore the historic lighthouse itself, which was built in 1881, and delve into its interesting history through guided tours available on site. Whether you're a history buff, a photography enthusiast, or simply someone who appreciates breathtaking coastal views, Barrenjoey Lighthouse offers a splendid outing for all.
Visit The Bahá'í Temple
The Bahá'í Temple, also known as the Bahá'í House of Worship, is a serene spiritual haven located about a 45-minute drive from Manly's town centre. This unique nine-sided structure is one of only nine Bahá'í Temples in the world and is open to visitors of all faiths for prayer and contemplation. Set amidst beautifully landscaped gardens and native bushland, the temple offers a tranquil space for reflection.
While you're there, pop into the visitor's centre to learn more about the Bahá'í Faith or take a leisurely walk through the scenic gardens that surround the temple. Whether you're interested in architecture, spirituality, or simply looking for a peaceful escape, the Bahá'í Temple near Manly offers a memorable experience.
Manly Art Gallery & Museum
Are you craving some local culture? Well escape the sun for a couple of hours and come check out the Manly Art Gallery and Museum. This cultural hub showcases local art, history, and Indigenous Australian heritage. Check out the rotating exhibitions and permanent collections. If you're looking for some beautifully handcrafted souvenirs to bring home, check out the Manly Markets. Held on weekends, these vibrant markets offer an array of handmade crafts, fashion, and gourmet food. It's a great place to find unique souvenirs and gifts.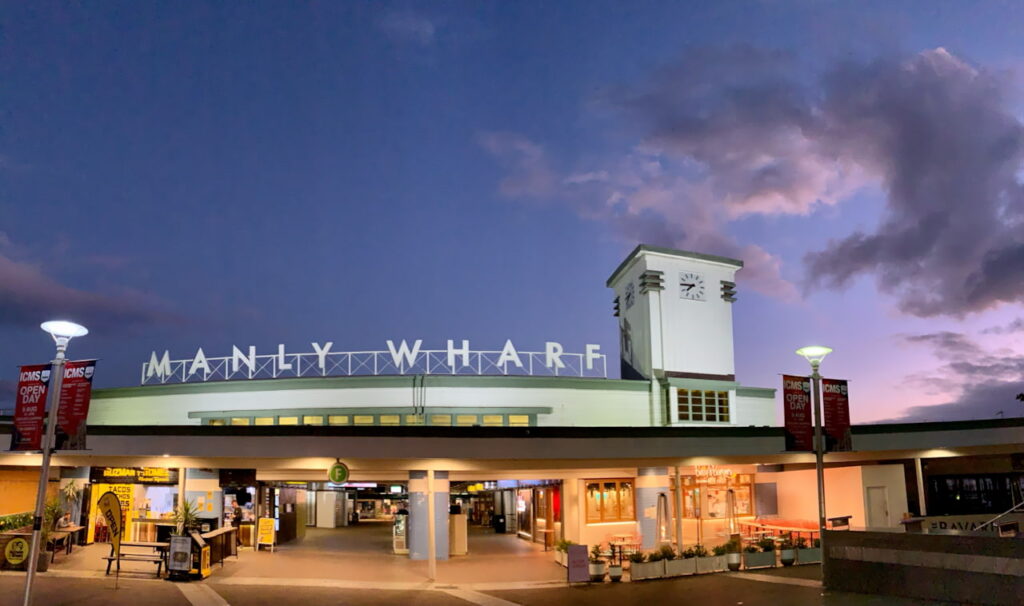 Have Some Fun at the Manly Corso
Once you're finished exploring for the day, you'll probably be ready to relax and let off some steam. The Manly Corso is perfect for a late night gander. Stroll along this lively pedestrian street, lined with shops, bars, and restaurants. Enjoy outdoor dining, live music, and street performances. During the day, the Manly Wharf beside the Manly Corso is a great starting point for various water-based activities, including kayaking and paddleboarding.
Manly Events and Festivals
Manly Beach hosts various events throughout the year, such as the Australian Open of Surfing, Taste of Manly Food and Wine Festival and the Manly Jazz Festival. The festival showcases an eclectic mix of jazz styles, ranging from traditional to contemporary, and features performances from both local and international artists. The event attracts thousands of music lovers, who can enjoy live performances across multiple stages set up in various locations around Manly, including outdoor stages, local clubs and restaurants.
On top of all the lively musical performances, the Manly Jazz Festival offers a range of activities and experiences to participate in, such as workshops, masterclasses, and artist talks, which allow attendees to engage with the music and the artists on a deeper level. The festival also promotes a family-friendly atmosphere with activities for children and families, making it an enjoyable experience for all ages.
For the surf enthusiasts, the GWM Sydney Surf Pro kicks off on May 17th – 24th. This popular event typically attracts top surfers from around the world to compete in the iconic waves of Sydney's coastline. Surfers battle it out for valuable championship points, prize money, and the chance to be crowned the winner of this prestigious event.
Taste of Manly invites foodies beachside to indulge their senses in two days of fine wine, delicious food, good music and dancing. Backdropped by Manly's iconic beachfront and centred around the pulsing heart of Manly's Corso, Taste of Manly will spotlight local restaurants, scrumptious Australian fine wines, the Northern Beaches' plethora of local breweries, and a line-up of talented live musicians.
Check the local event calendar to see if there's anything happening during your visit.
Get Ready to Fall in Love With Manly
There really is an endless list of things to do in Manly. With so many diverse activities and experiences for visitors to enjoy , from its world-class beaches to its picturesque coastal walks, vibrant dining scene and thrilling water sports – it's a vacation heaven. Whether you're seeking relaxation, adventure, or a taste of local culture, Manly truly has something for everyone.
As you start to plan your exploration of this beautiful beachside suburb, don't forget to check out all the great vacation rentals in Manly. Have the luxury of calling somewhere home, one that's next to all the action in Manly. So, pack your sunscreen, grab your beach towel, and get ready to create unforgettable memories in this stunning corner of Australia.
Commonly Asked Questions About Things To Do in Manly
How do I get to Manly from Sydney CBD?
The most popular and scenic way to get to Manly from Sydney CBD is by taking the ferry from Circular Quay. The journey takes approximately 30 minutes, offering beautiful views of Sydney Harbour, the Opera House, and the Harbour Bridge. Alternatively, you can drive or take a bus, but travel times may vary depending on traffic.
Are Manly's beaches safe for swimming?
Yes, Manly's beaches are generally safe for swimming, especially when you swim between the red and yellow flags, which mark the supervised areas with lifeguards on duty. However, always pay attention to the beach conditions and follow any safety warnings or advice from lifeguards.
Is Manly suitable for families with children?
Absolutely! Manly is a family-friendly destination with various activities that cater to all ages, from its beautiful beaches and playgrounds to nature walks and kid-friendly attractions. The calm waters of Shelly Beach or the oceanfront pool are particularly popular with families.
Is there any nightlife in Manly?
Manly has a vibrant nightlife scene, with numerous bars, pubs, and clubs located along the beachfront and surrounding streets. You can enjoy live music, dance the night away, or simply unwind with a drink while taking in the stunning beach views.