THE SITUATION
Daniel and Mia always dreamt of buying a property in Manly and having a lifestyle pad by the beach…
They live in rural NSW and wanted a property they could use as their Sydney base when they visited for holidays and work commitments a few times a year. They successfully purchased a beautiful, newly renovated, three bedroom apartment opposite Manly beach last year and finally fulfilled their lifestyle dream!
They quickly realised that the property would be sitting empty for extended periods of time when they weren't visiting and knew it had potential as a beachside asset. However, they did not want to be locked into a fixed term rental agreement of 6 or 12 months, as this would defeat the object of them having the property to enjoy themselves… not the dream they had longed for!
They wanted flexibility to accommodate their lifestyle of travelling to and from Sydney while still being able to utilise the idle capacity of the home when it was empty. Enter, Short Term Rentals – the perfect solution for them. It allows Daniel and his family to use the property themselves at any given time during the year, whilst making a revenue while it's empty. The ultimate dream!
"Flexibility to accommodate your lifestyle."
THE SOLUTION
The family decided to engage us, Property Providers, as they knew we were a local boutique agency and experts in the executive Short-Term Rental space. We recommended that they harness the power of extended stays and target locals renovating, those between buying and selling, or executive corporate relocation clients.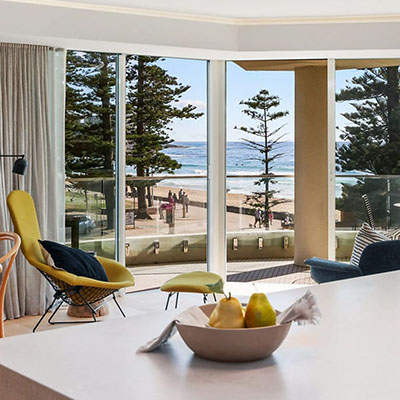 We were extremely confident that we would secure great results for the property given its prime location and luxury finishings.
THE RESULT
The property was listed on our website using the images from the sale campaign, and with an unclear start date as the owner was still arranging furniture deliveries. Within the first week of the property being listed, Property Providers managed to secure 2 bookings for the property, with both clients wanting to take the property despite only seeing sale campaign images and not walking through the property themselves. This was an amazing turnaround but meant a very quick execution, for the owner to finalise furnishing the property and for Property Providers to complete its onboarding process.
The first booking was a Clontarf local renovating his family home. They booked the property for 120 nights in total spending over $58,000 for the period. This resulted in a weekly rate of nearly $4,000 over winter.
The second booking was a corporate relocation client, looking to reside in Manly until they look to buy their forever home. They booked the property for 130 nights in total spending over $69,000 for the period. This resulted in a weekly rate of nearly $4,000.
In securing these two bookings for the property within days of going live, Property Providers, managed to achieve $127,300 in gross rent for the owners. This, for a property that otherwise would be sitting empty and returning no extra income!
The secured bookings more than covered the cost of furnishing the apartment, leaving some pretty extra pocket money for the owners and more importantly for them it means that it is being taken care of when it would otherwise be vacant. We know a dream is achieved when we see one!
Property Providers is Sydney's most flexible residential rental agency.
Our core purpose is "To Help People Live Better" through providing long-term luxury leasing, super luxury holiday homes and executive rentals for extended stays.  If you are interested in listing your property, please contact us on +612-9969-7599 or if you are looking for a tenant or guest who is looking for a handpicked home, please visit our website or brief us here.