"I will honour Christmas in my heart, and try to keep it all the year."

Charles Dickens
A Christmas in Sydney is a truly magical experience. You'll be wonderstruck by the city's seasonal decorations that make the city come alive with Christmas lights, carols, and festive cheer.
There are plenty of Christmas markets to explore where you can find unique Christmas gifts, and the city's famed beaches make for the perfect backdrop to your Christmas celebration. So, if you're looking for a truly festive season experience, there's no better place than Sydney.
Weather in Sydney for Christmas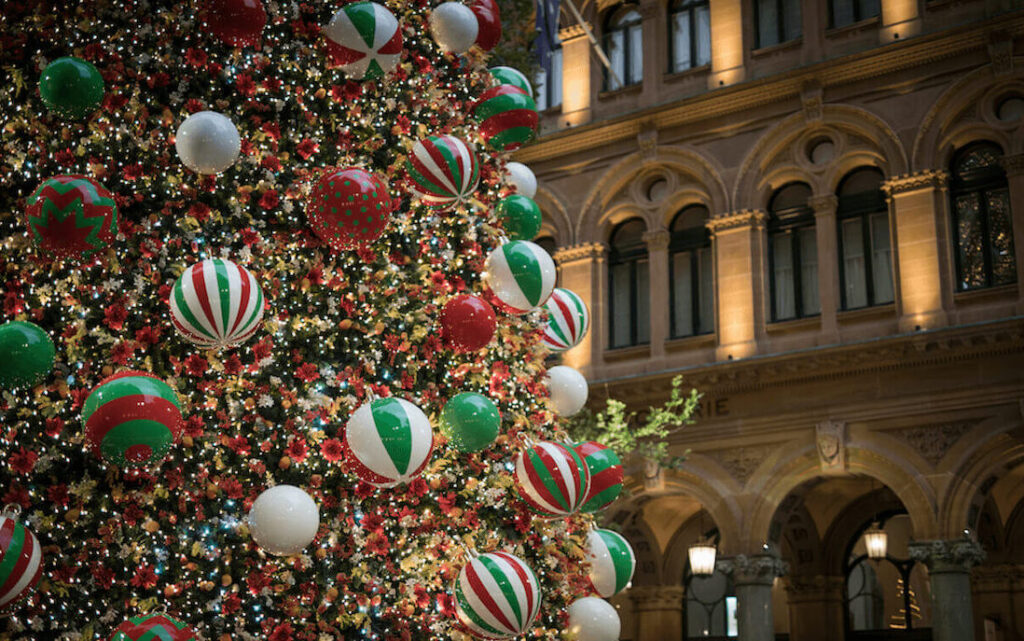 There's something special about spending Christmas in the warm weather, surrounded by palm trees and stunning views. The weather is warm with a temperature usually between 20 and 30 degrees Celsius (68-86 Fahrenheit), and the skies are blue making it the perfect weather for a unique Christmas celebration. The views are simply stunning, and the Christmas spirit is palpable.
Christmas activities in Sydney
Looking for things to do for Christmas in Sydney? Check out some of our favourite Christmas activities below:
Christmas cheer comes to the harbour!
If you're looking to get in the spirit of Christmas, come check out Deck The Harbour at Darling Harbour! You'll find back-to-back events and family attractions that will make this time period feel like none other.
Pedal boats are a great way to enjoy the sights of Sydney during your stay in Australia. You can hire one for up to two adults and two small children, so you will be able to see all decked out with festive decorations from afar as well!
The 6-metre tall, Christmas bauble lighting up Darling Harbour is an Instagrammable spot that will make your holiday ready in no time. With a kaleidoscope of multi-coloured lights shining behind you while taking perfect selfies onstage at The Entry's Clifton Hill stage or near the iconic Sydney Opera House— this location has it all!
From floats or pedal boats, there's something for everyone here so grab your friends and kids before they run off with all their presents under the Christmas tree!
Christmas lights and trees in Sydney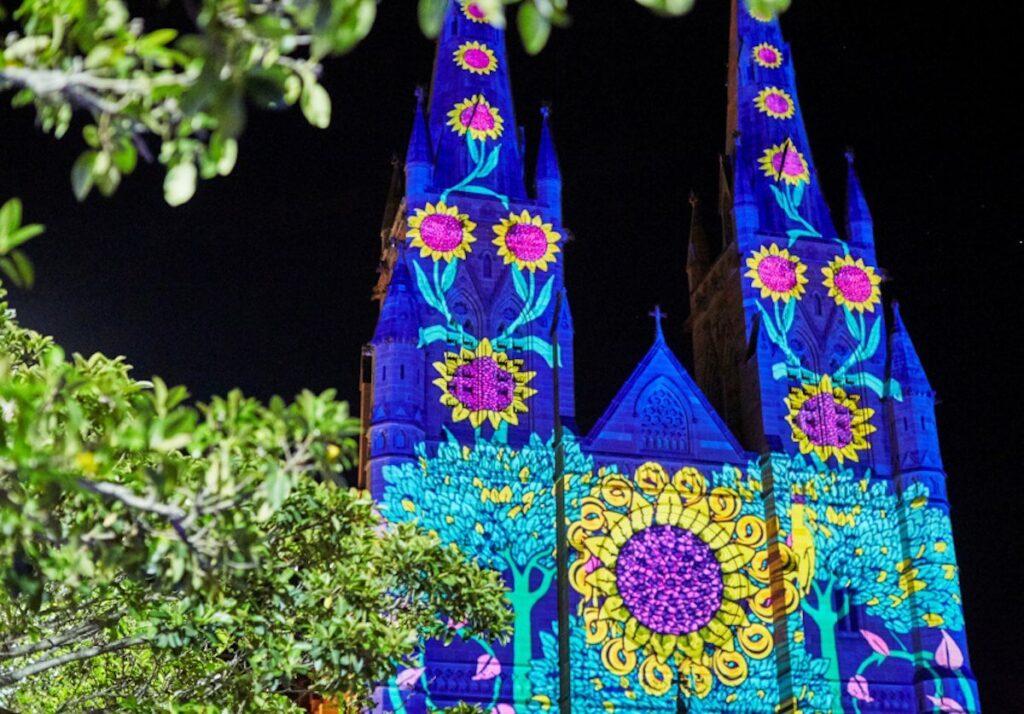 Sydney is a city that truly comes alive during Christmas time. The streets are strung with lights, the shops are decked out in their holiday best, and there's a festive atmosphere in the air.
The gorgeous stained glass windows in St Mary's Cathedral are transformed into a magical, festive showroom for Christmas with colourful light projections and nightly choral performances.
This December, Sydney's Martin Place will be transformed into a winter wonderland. The area will be filled with festive decorations, lights, and activities for everyone to enjoy. So come on down and celebrate the holiday season in style! An extra-large Martin Place Christmas tree woven with more than 110,000 LED lights provides a beautiful backdrop for city strolls and selfies while you enjoy your post-shopping dining experience!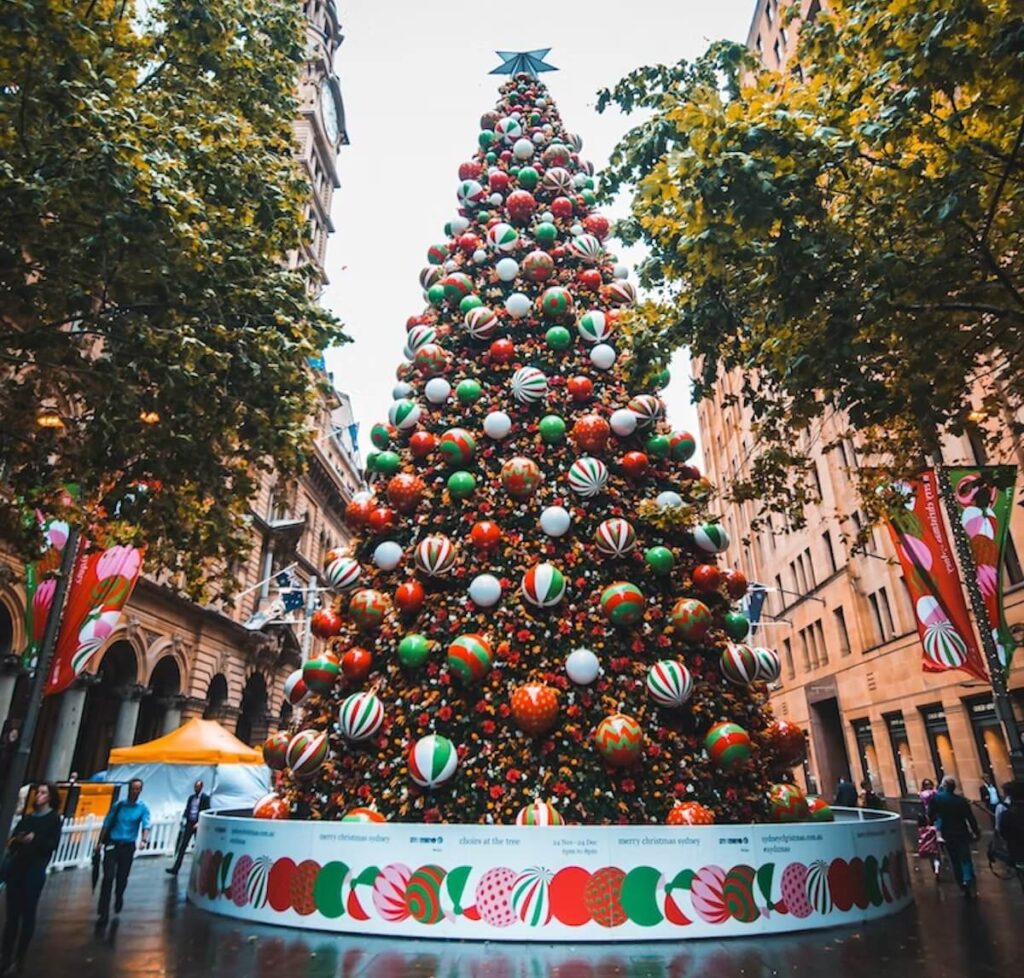 And of course, no visit to Sydney would be complete without a trip to see the world-famous Opera House lit up in all its glory.
Come and get your share of lively lights at Mosman!
Forget the North Pole – Mosman is the place to be this holiday season! Stroll along Prince Albert Avenue and take in all of its glory with magnificent mansions magically lit up with festive displays. It's a sight that will surely make your heart swell as you bask in some truly Christmas cheer. So, jump into your car and experience it for yourself – parking won't be far away, giving you plenty of time to explore each awe-inspiring home! If you happen to be looking for accommodation in Mosman we're here to help.
And while you are here, make sure to swing by 2 Magic Grove in Mosman and take in their spectacular Santa and inflatable display that casts its festive cheer from 7.30 am until the lights go out at seven o'clock – a perfect way to get your family into the holiday spirit!
These are just some of the Christmas lights you'll find around Sydney. You can make Sydney your holiday destination and enjoy a memorable stay in one of its spectacular city-view accommodations in Sydney! There's nothing quite like being able to take in the breathtaking views from the comfort of your abode, especially when illuminated by enchanting Christmas lights.
From carols in the park to ice skating at Bondi Beach
It's that time of year again! When the biggest stars from Australia come together to celebrate Christmas. The iconic Woolworths Carolers will be back in 2022 for their 40th anniversary!
This event doesn't only attract fans in Sydney or Melbourne – it's watched by millions across all six states (and New Zealand too). Be sure to mark Saturday 17 December on your calendar and come celebrate with some seasonal sing-a-longs.
Bondi Beach will come alive with Christmas cheer as the annual Ice Rink slides into place on 26 November. For eight weeks, you can enjoy all the fun of outdoor skating against the stunning backdrop of Australia's most famous beach. It's the perfect activity for a hot summer's day!
Carols at the Rotunda in Mosman
The Balmoral Beach Rotunda is an iconic landmark set in a very picturesque area. It dates back to 1930 and will be the venue for this year's Christmas Carols. The venue is popular among locals and tourists alike and witnesses a gathering of thousands of people who gather around the Rotunda on their picnic blankets to enjoy the merry evenings of carol singing.
Taronga Outdoor Christmas Concert
Taronga's annual Christmas concerts are set in a wonderful setting and feature an all-star lineup of artists and performers each year! Don't forget about Santa, the star of the evening, who joins the performers on this special evening against the backdrop of Sydney Harbour.
There are food and beverage options on the spot or you can make this a family picnic outing for an exciting time!
A Christmas Carol at the Theatre Kirribilli
A Christmas Carol by a magnificent ensemble cast at Kirribilli's Theatre will immerse you in its ghostly world filled with conjured spirits, music, pantomime, and an array of other surprises.
The play is on now until 29th December 2022.
Christmas markets in Sydney
Christmas markets are set up all over the city, selling unique Christmas gifts and decorations. The streets are lined with twinkling lights and the shops are decked out with festive displays.
Sydney's Christmas markets are the perfect place to find unique gifts and decorations for your loved ones. There are markets all over the city, selling everything from handcrafted jewellry to Christmas trees. You're sure to find something special for everyone on your list.
Here are some of the best Christmas markets in Sydney:
The Rocks Christmas Market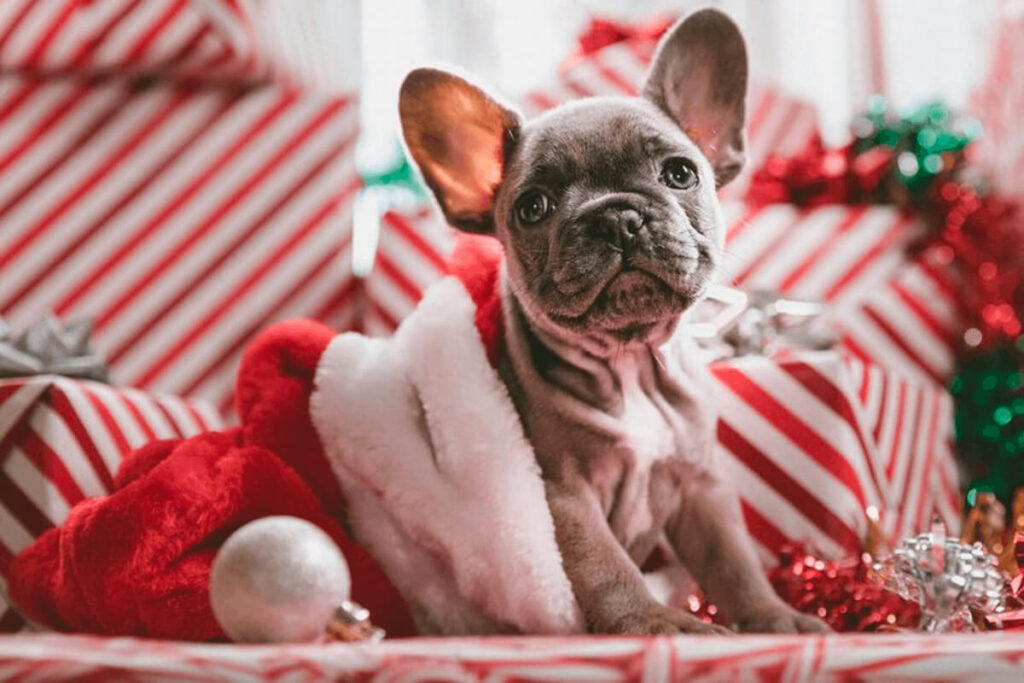 If you are travelling to Sydney with your pet, the Rocks Christmas Market is one of the most popular in Sydney and is a great place to find unique Christmas gifts. There are over 100 stalls selling everything from handmade arts and crafts to Christmas decorations.
Bring your pup to participate in a free photo with Santa every Saturday between December 3 – 17. On December 3rd there will be an event called Pound Paws Dog Day where you can enjoy dog-friendly market stalls and live entertainment while giving Fido some time off from all that barking at passersby!
Hyde Park Christmas Market
This market is located in the heart of Sydney and is a great place to find Christmas gifts and enjoy the festive atmosphere. There are over 100 stalls selling Christmas decorations and handmade arts and crafts.
Bondi Beach Christmas Market
This market is located on the world-famous Bondi Beach and is a great place to find Christmas gifts and enjoy stunning views, Christmas shopping, and more
Shop around before your visit as well – there are lots of great gift ideas that will make any woman happy (or man too!) including Reign Champagne Parlour & Bar where they have an amazing selection of drinks available such as champagne cocktails made by Reign herself. Not only does it sound tempting – who doesn't love custom orders?! Another spot is Lush cosmetics for all the handmade, natural, and vegan beauty products a lady could ever want! You can find them in the QVB too.
For the Christmas foodies in your life, there's Sydney Smokehouse which has some of the best-smoked meats in town; or if you're looking for something a little different, try Sweetie Pies Bakery for their unique Christmas cakes and pies.
Ba'zart
After relaxing in your holiday home in Manly, you can go on a little shopping trip in the area, and make them happy while also buying from a talented local artist when you do your Christmas shopping from Baz'art.
This market has a curated selection of home decor, jewellery, organic beauty products, handcraft design plants, and more! After your shopping spree, you can also enjoy live music, food, and drinks. The best part? Entry to this market is free!
On Christmas Day
After opening up your presents and having a big feast, you can head down for some sun at one of its many beaches with its beautiful ocean views and mild winter waters that are perfect even when it isn't hot outside! If sightseeing isn't really what excites you this year, visit the SEA LIFE Sydney Aquarium to see all the animals including sharks, penguins, and more!
Taronga Zoo is also open on Christmas Day for anyone who wants to visit and see the animals. The zoo will have Christmas carols playing all day from different choirs and you can also take a photo with Santa!
All in All, a magical Christmas escape
Sydney is a beautiful city that offers so much during Christmas time. The perfect way to enjoy all of this wonderfulness? Choose from an incredible list of seasonal holiday rentals in Sydney for your Christmas & New Year's Eve stay!
You'll be able to stay close by while still being able to experience everything the area has available for your holiday break, including markets and carollers singing songs outside each night – it doesn't get more festive than that! You're sure to have a holiday that you'll never forget.
So why not consider spending Christmas in Sydney? Book your stay today!
---
Related Topics
#airbnb #booking.com #corporaterelocations #corporaterentals #corporaterentals #executiveleasing #shorttermrentals #executiveleasing #executiverentals #extendedstays #furnishedrentals #holidayhome #holidayrental #homeaway #instantbooking #morebookings #novacancy #petfriendlyrentals #propertyproviderssydney #propertyproviderssydney #shorttermrentals #corporaterelocations #executiverentals #homeawayfromhome #furnishedrentals #localaccommodation #temporaryaccommodation #shorttermrental #shorttermrentals #smartershorttermrentals #temporaryaccommodation #vacationrentals advise for landlords guests hirehouse hireproperty Holiday Stays investment property lease long term rental Luxury property Property Investment Property Management Property Manager propertyproviders rental rentals renting Short Term short term rental short term rentals Sydneyproperty tenants